ACT Sports House no longer has facilities at Hackett so we are moving the AGM this year.
It will be held at the Griffith Neighbourhood Centre, 51 Stuart Street, Griffith, 2603.
Please see Google Earth image below.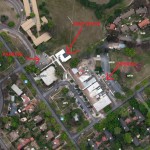 It will be held at 11am on Saturday, 16 May 2015 I look forward to seeing everyone who can make it.
Formal notice of the meeting will be issued shortly.
Best regards
Matthew Barnard
Secretary