Establishment of the Club and Construction of Lodge
The information and links published on this page have been taken from club founder, Anthony (Tony) Van Vugt's web site . Thanks to Tony we have some documented history of how the club was formed and the lodge constructed.
Tony established the club in 1974 and Doorack lodge was constructed during the 1975-1976 summer and officially opened on 4th July, 1976.
Some Information about the Club's Origin
Tony discussed the idea of building a lodge with John Eglington, who was at the time a NCDC Architect. He half-jokingly said to John "If you are prepared to design the Lodge, I'll make you a honorary member." John, who was not a skier, didn't take a minute and said that he would be in it. He made the point though that he would do the design and then step back to let others supervise the construction of the lodge.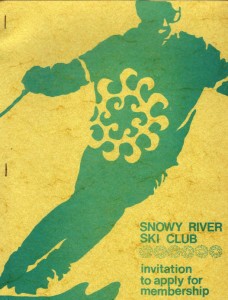 John prepared some preliminary sketches and these formed the basis upon which the prospectus inviting NCDC staff and others to join was based. Later on, the prospectus was made available to contacts at other government departments, with functions similar to NCDC, and to the Australian National University and to consultants, contractors and tradesmen in the local construction industry.
The Club's Board of Directors, decide to limit membership to the first one hundred applicants who, with their families, would become the foundation members of the club. This membership quota was filled almost immediately.
We had an incredibly good mix of members, comprising people from different countries, with many complementary skills including architects, engineers, environmentalists and those with experience in the trades.
The club's spirit developed by keeping all prospective members informed and have them participate in planning and development. Many would play important roles in design and construction, furniture making, administration and management and by serving on the Board of Directors.
Article in "Architecture Australia"
The prestigious "Architecture Australia"  magazine published in November 1978 had the following article that describes the design concept, construction, voluntary contributions by members and acknowledges the main parties that played a role in design and construction.
Architect: John Eglington
Client: Snowy River Ski Club Cooperative Ltd
Engineer: John Dickson
Landscape architects: Ray Margules and Paul Bombadier, of Margules and Deverson Pty Ltd
Builder: MAJA Constructions Pty Ltd
Location: Guthega, New South Wales
Approx cost: Building: $123,000. Furniture and fittings: $15,000
Approx cost per square metre: $303
Areas: Lower floor (wet areas): 102 square metres
Main building: 268 square metres
Mezzanine: 35 square metres
Completion date: July 1976
The Construction
With several members with experience in the construction industry, among which John Lawrence, the then manager of Lend-Lease in Canberra, the Club successful contracted with Mr. Max Saltmarsh of MAJA Constructions Pty. Ltd. This firm had worked for Lend-Lease in the Thredbo Ski Resort and specialized in the construction of lodges in alpine regions
A major problem that emerged was that the construction price quoted was twice as high as the initial estimate upon which membership recruitment had been based. This meant that it was necessary for the Club to go back to members and ask for their support for a doubling of their investment in membership from Aus$700 to $1,400. Prior to going back to members, arrangements had been made with the then Bank of New South Wales, to provide a facility for members paying by installments. It was rewarding to the Board that 98 percent of members made the additional contribution.
Construction had to be completed within a single summer season. This was achieved by the pre-fabrication, during the winter, of the steel frame that supports the lodge. A member, John Dickson was the structural engineer. Construction started as soon as the snow started to melt.
Throughout the construction period members took part in weekly working parties that, among other, carted stones from a quarry for the foundation walls, helped dig the foundation and absorption trenches, worked on landscaping and many other jobs, including the making of lodge furniture.
A significant part of the work to get to lodge constructed and operational came from voluntary work by members. There was always enough interest and support by members. We obtained overnight accommodation at the adjoining ski lodges, particularly, in the two YMCA lodges – Kyala and Tiobunga, and at the Guthega Ski Club that had years earlier been set up by a group of Austrian immigrants.
Most of the voluntary work was in the unskilled labor category: digging trenches, carting rocks, cleaning up after the builders, internal and external painting and a zillion of other jobs.
Here are some old pictures of the lodge under construction.
Leave a Reply
You must be logged in to post a comment.